Spring Basketball Clinic Registration
We are excited to announce our Spring Basketball Clinic Series to be played in Laguna Niguel for both our Youth and Adult Programs. The 1-hour Clinics will be held each Saturday from April 24 to June 12 (8-weeks) and focus on individual skill development (including ball handling, passing and shooting), teamwork and building confidence on the courts.
Pods: Athletes will be grouped into pods according to age with 8 to 12 athletes per pod. Athletes will remain in the same pod for the duration of the Series to promote both safety and friendships amongst athletes. Pods will be led by Spirit League staff with support from volunteers at the skill stations. With the Clinic format, games between two teams will not be played.
Equipment: Equipment will be provided by Spirit League and disinfected between pods. The weekly curriculum includes minimized sharing of equipment between athletes.
Times: The registration fee includes attendance at all eight sessions.
Division 3 (6-9 years): 10:30 am – 11:30 am
Division 2 (9-13 years):11:45 am – 12:45 pm
Division 1 (13-22 years) will play from 1:00 – 2:00 pm
Adults (18 – 30 years): 9:00 – 10:00 am.
If your athlete will need 1:1 assistance to participate, a parent/guardian will be permitted to provide on-court assistance. Non-family members (i.e., ABA Therapist) will be permitted if it is the same person for the duration of the Series.
COVID-19 Safety: Spirit League has prepared Return to Play Guidelines in response to State and local regulations related to COVID-19. Amongst other things, these Guidelines address distancing by athletes and spectators, shared equipment, limiting exposure and restricting the number of spectators per athlete to members of the same household.  Per State guidelines, staff, volunteers, spectators and athletes (when tolerated) should wear face coverings. These Return to Play Guidelines are available for review here and in the Terms and Conditions section of our registration system.
Thank you for your support and patience as we navigate returning to play.
We can't wait to see you in April!
Call 714-417-9553 or email info@spiritleague.org with questions.
HOW TO REGISTER
IMPORTANT NOTE
Click the "Register Now" button below to access our registration site where you can set up your parent profile (new parents) or login to your current account (returning parents). Once you are logged into your parent account, you can set up new athletes or modify your current athletes.
Once your athlete's profiles are added or updated, select "Register Now" to enroll an athlete for a specific season. Your athlete is not registered for the season until you have completed the Register Now process and payment. Upon successful payment, you will receive an online confirmation and a copy will be emailed to the email address listed in your parent profile.
Once registration closes, Spirit League Staff will form teams, divisions, and play times.
We will notify parents approximately 2 weeks prior to the start of the season of their athlete's team assignment, time of play, and calendar for the season.
REGISTRATION FEES
The registration fee for the Spring Basketball Clinic Series (8-weeks) is $150. (Our typical 10-week sports seasons are $195 per athlete per season during the open registration period.) After the open registration period, registrants will be subject to a late fee. Registrants will be placed on pods on a first-come-first-served basis, and as such we cannot guarantee that we will be able to place all late registrants on pods (refer to Refund Policy in FAQs)
REGISTRATION INCLUDES THE FOLLOWING (does not apply to Clinic Series):
Personalized jersey and, depending on season, either baseball hat or shorts;
Individual and team photos;
Personalized trophy or medal;
Coach's gift; and
All family season-end party.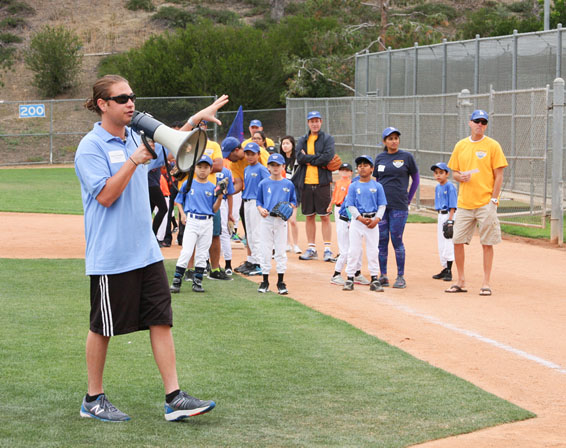 REGISTRATION SCHEDULE
BASEBALL
Online registration for the 2022 Season will start in February 2022.
Games will be on Saturdays at the Oso Fields in Mission Viejo starting from mid-April to mid-June.
SOCCER
Online registration for the the 2021 Soccer Season will start June 1.
Games will be played at the Oso Viejo Fields in Mission Viejo from September to mid-November.
BASKETBALL
Online registration for the 2021 Spring Basketball Clinic Series will start February 21. The Series will be played from April 24 to June 12 at the El Lazo outdoor courts in Laguna Niguel (8-weeks).
Please Note: Spirit League is a "No Drop-Off League" for all three age Divisions. A parent or responsible party must be present at all times, during both skill practice and games, to provide assistance if the need arises. 
BECOME A COACH
As a Coach, athletes and parents look to you to make the Spirit League experience the best it can be. Not only does the Spirit League coaching experience impact the lives of our amazing athletes, it impacts the lives of our coaches as well.
JOIN US NOW